Domestic and industrial roofing
Coppo/IsoCoppo is the range of Roman roof tile shaped sheets and panels created by Alubel, the leader company in designing and manufacturing roofing and façade systems.
---
Some references
Serravalle Outlet
10,000 sq.m of Il Coppo di Alubel sheets
Residential complex
Il Coppo di Alubel sheets with a Red Coppo finish
Ge.TUR holiday village
IsoCoppo Tek panels
Riding club
IsoCoppo Flat panels with a Red Coppo finish
Private home
IsoCoppo Tek panels with photovoltaic modules
Why Coppo-IsoCoppo?
With the products of the Coppo/IsoCoppo range you have a functional roof that is nice to look at and also practical, lightweight, secure and able to guarantee maximum waterproofness.

Maintenance free
Roofs made with Coppo-IsoCoppo compared to those in traditional clay require infinitely less maintenance.

Waterproof guarantee
The panels of the Coppo-IsoCoppo range guarantee unparalleled waterproofness even if the roof has a very gentle slope.

Easy to install
They can be applied to any existing support, even in very difficult situations: simply prepare a light wooden or metal framework which means, in certain cases, you can D.I.Y.!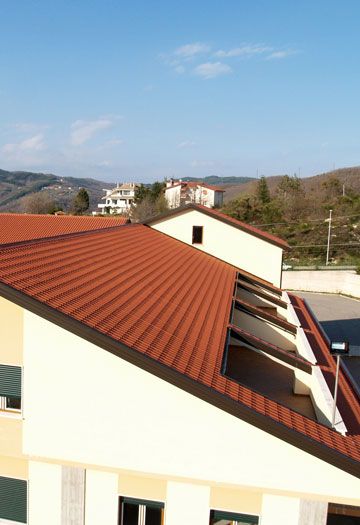 Wide range of accessories
The whole Coppo-IsoCoppo range has a complete set of accessories designed to guarantee a simple and quick installation.

Exceptionally lightweight
The weight of all panels in the Coppo-Isocoppo range is far less than the normal bricks or traditional tiles used.

Application of photovoltaic modules
Thanks to the patented "Isocoppo FV" bracket photovoltaic modules can be installed with the maximum of ease and precision on any of the panels in the Coppo-IsoCoppo range.